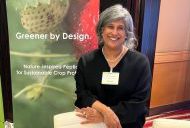 21 September 2022
SOLASTA Bio wins at the World Agri-tech show!
CEO Shireen Davies was the winner of the 'Gone in 60 seconds' pitch competition at this year's world Agri-Tech conference in London.
More articles
12 October 2023
SOLASTA Bio is discovering and developing new peptide-based bioinsecticides. Learn more about our company from CEO Prof. Shireen Davies in this video. Thank you to Scottish Enterprise for this production ...
11 September 2023
Data hub showcases investment flow for Glasgow's tech success. Press coverage in Glasgow Herald.